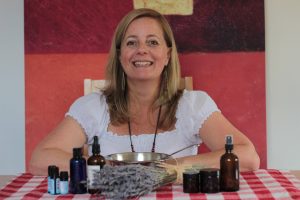 About Mayca Fernandez , a natural and organic skincare educator who is passionate about natural and organic ingredients and products for the skin and well-being.
In March 2008 I was suffering from post-natal depression of my third child and had a terrible accident while cooking and burnt my face pretty badly. When visited the hospital the dermatologist prescribed me Organic Rosehip oil to repair my skin and delete any possible scars. I have to say I first felt impressed by being giving a natural plant oil prescription and at the same time kind of felt reluctant to believe this oil would actually delete those terrible brown spots on my face.
After only few days of using this wonderful oil my skin actually improved so much that actually looked stunning and felt much better than before the accident. This was my Eureka moment .I ditched every single expensive beauty product (Yves Saint Lauren, Christian Dior, Clinique, Clarins …) that I found in my bathroom cabinet and started to read about natural skincare, organic food and healthier alternatives. Basically educating myself in this start of a beautiful new journey.
I am originally from Malaga – South of Spain and moved to Ireland in October 2008 (same year of the accident) with my Irish husband and my 3 children. My suitcase was full of Naetura Organics skincare range products and dreams…, Naetura is a wonderful Spanish organic skincare leading brand , and started to offer to health shops in Ireland receiving a surprising and disappointing rejection from the shops to these wonderful products . They said literally :"the products are fantastic but the packaging is not very nice ". First question came to my mind : Is the packaging more important than the content then? In 2011 while I was studying Food Science & Nutrition in a college in Dublin when decided to use my anger and frustration accumulated over the few years trying to offer wonderful organic skincare but simple recyclable packaging, to start up my own online shop wapo.ie selling Naetura organic skincare range and many other wonderful brands on my website. The experience of working with great natural and organic skincare brands lead me to study ingredients label in depth so much so that I received teacher training to know how to make and teach natural skincare and become natural skincare educator in 2014.
I have also been manufacturing manager for the Irish brand www.yogandha.com making their wonderful beauty oils for 2 years, amazing and enriching experience to say the least. I have completed Natural Lift massage therapist Diploma in September 2016 and keep studying new things about natural cosmetics, formulation, aromatherapy and cosmetic chemistry. I have run few beautiful workshops in Airfield Estate in Dundrum-Dublin in 2016. I have achieved a new Diploma in Natural Dermocosmetic Lab Technician where I have gained a lot of new exciting knowledge and amazing experience last April, 2017 and will continue to up-skill in this magic and unlimited natural skincare world.
Last March 2017 I was featured in " Ask the Expert " in the Beauty magazine – Irish Independent newspaper
Love being in this path of continuous and fascinating discovery as natural world never stops to impress me. I would love to share with you my knowledge and experience for you to make wonderful and genuinely natural skincare products for you and your family.
It is fun , rewarding and the best choice for your skin and for our precious planet.
La Mayca x