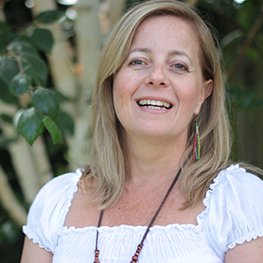 Founder of Wapo Beauty School, the 1st natural skincare school in Ireland
15 years experience in natural skincare industry
9 years empowering students to make natural skincare
Certificate in Advanced Cosmetic Science
Diploma in Food Science and Nutrition
Former Manufacturer Manager in Yogandha oils, Dublin.
Mayca Fernandez, of Wapo Beauty School, is a natural and organic skincare educator and cosmetic formulator who is passionate about natural and organic ingredients and products for the skin and well-being.
Read Mayca's story on how she founded Wapo Beauty.
In March 2008 I was suffering from post-natal depression of my third child and had a terrible accident while cooking and burnt my face pretty badly. When visited the hospital the dermatologist prescribed me Organic Rose hip oil to repair my skin and delete any possible scars. I have to say I first felt impressed by being given a natural plant oil prescription and at the same time kind of felt reluctant to believe this oil would actually delete those terrible brown spots on my face.
After only a few days of using this wonderful oil my skin actually improved so much that it actually looked stunning and felt much better than before the accident. This was my Eureka moment.
I ditched every single expensive beauty product (Yves Saint Lauren, Christian Dior, Clinique, Clarins…) that I found in my bathroom cabinet and started to read about natural skincare, organic food and healthier alternatives. Basically educating myself in this area was the start of a beautiful new journey.
I received teacher training on natural cosmetics to learn how to make and teach natural skincare to others and become natural skincare educator in 2014.
I have also been a manufacturing manager for the Irish brand www.yogandha.com. Making their wonderful beauty oils for two years was an amazing and enriching experience to say the least.
I've been a teacher of natural skincare formulation since 2016, holding in person workshops in Airfield Estate and Dundrum, and throughout Ireland.
I qualified as a Natural Dermocosmetic Lab Technician in 2017 and a Cosmetic Scientist in June 2019 .
Over the years have I featured in number of national Irish newspapers and magazines. March 2017 I was featured in " Ask the Expert " in the Beauty magazine – Irish Independent newspaper.
I love being in this fascinating path of organic skincare formulation. There is so much to discover in the natural world and it never stops to impress me. I love to share my knowledge and experience to enable you to make wonderful and genuinely natural skincare products for you and your family.
It is fun , rewarding and the best choice for your skin and for our precious planet.
La Mayca x
Learn how to make professional retail-standard organic natural skincare products, better than what you buy in stores. Learn how to use premium quality, cruelty-free, vegan friendly ingredients to make products by yourself in the comfort of your own kitchen.