We all love the holidays, but it's important not to forget about the planet while we celebrate them. Yuletide glee and having a merry time can generate a lot of waste, yet it's possible to have a sustainable Christmas. In Ireland and the UK alone, we toss out over 50 million tonnes of rubbish every year. Nonetheless, being sustainable isn't about placing the blame on one person or the other, it's about making changes to our daily lives. In this sustainable Christmas guide, we'll cover all sorts of tips to help you celebrate more eco-friendly holidays.
Sustainable Christmas Decorations
Granted that while plenty of people will have already put up their tree (and placed gifts under it) any stragglers left behind can benefit from these tips. Most of the time, decorating our trees involves buying lots of plastic baubles and decorations that can't be rescued once they've bitten the dust. Although there's nothing wrong with purchasing well-made decorations that are built to last, one idea we love is making and using biodegradable decorations around the house. For more sustainable decoration crafts check out this inspirational post from Natural Living Ideas.
Biodegradable decorations can be great for every corner of the house or even the tree. If you're thinking about buying a new Christmas tree this year, you might consider making your own or renting one instead! In the event that you're opting for a natural tree, be sure to find a mulching service or appropriate waste facility for it near you. Furthermore, those of us who love stringing up lights at home should seek more environmentally responsible options. Solar-powered lights are available in all shapes and sizes plus they can still bring that holiday cheer without running up your electric bill.
Gifting Sustainably
The holidays are a wonderful time to give back to those you care about most. Still, we can all work to be more thoughtful about our gifts and strive to choose more sustainable ones. We love this Christmas hierarchy infographic from MFARAI that recommends how to approach sustainable gift-giving.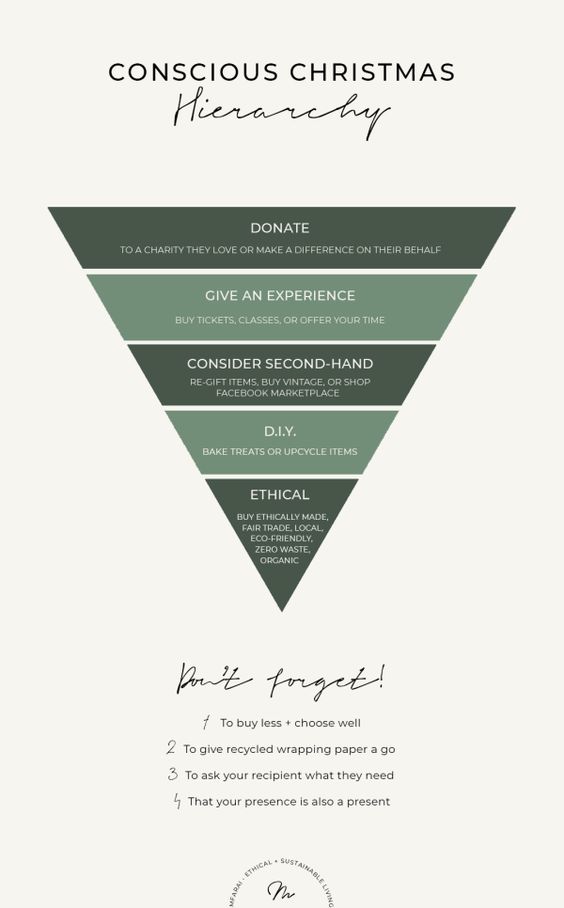 In the DIY section above, we'd like to add making cosmetics as an important part of the conscious Christmas hierarchy. At WapoBeauty, we're huge supporters of handmade holiday gifts. Of course, we also recognize that there are some situations in which making gifts just isn't feasible. If you're wondering whether shopping online or on the high street is better for the environment, we recommend Sin Plástico's recent blog post. 
Last but not least, there's the gift wrapping to make your present feel extra special. We have no doubt that many of you are avid recyclers, but have you tried wrapping your gifts in recycled paper or making a gift wrap of your own? There are plenty of fun ideas online, like decorating recycled paper with a potato stamp or upcycling old fabrics for gift wrap. Below you'll find a useful infographic to help spark your imagination.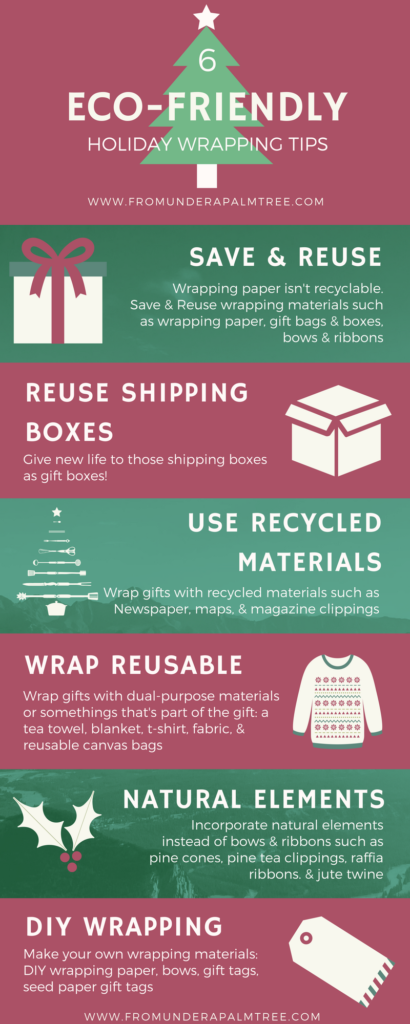 Smarter Food Choices
If you're aware of the popular app TooGoodToGo, you most likely already know that about a third of food goes to waste all over the world. During the holidays, you can guarantee that this number goes up by quite a lot. This holiday season, dare to make a difference by planning out your holiday shopping and meals to reduce food waste. While there's no right way to reduce your impact, we've seen lots of experts recommend these tips:
Purchase dry goods in zero waste shops to eliminate packaging

Avoid packaged food by cooking your own

Bring a bag to your nearest farmer's market or bakery

Offer more veggie options on your menu
Buy food that's in season

Compost your food scraps
Finally, we can't forget that alcohol is often a big part of the holidays between eggnog, spiced wine, and all the beverages in between. When possible, buy alcohol in bulk to reduce packaging. Opt for aluminium or glass as these two materials are endlessly recyclable. Also, ensure that your town, region or city recycles these materials beforehand.
Bonus Sustainable Christmas Tips
There are lots of things to remember when it comes to the holidays, so here are a few extra reminders of more sustainable choices to make this season.
If you have any more tips on how to have a more sustainable Christmas, be sure to let us know in the comments!
THE TAKEAWAY
The holidays don't have to be so hard on the planet if we all do our part to celebrate more sustainably. Changing our habits takes time, but together we can all make this important switch toward more sustainable Christmases in the long run. For anyone looking to craft their holiday gifts, we've got you covered. Find out more about WapoBeauty's Soapmaking eBook that instructs you on how to make natural skin care products at home. If you're seeking more hands-on learning to formulate and craft safe and professional skin care products, consider signing up for WapoBeauty's Traditional Soapmaking Workshop in Dublin this Saturday, the 14th of December.
ABOUT OUR BLOGGER:
Ashuni Pérez is an American writer based in Valencia, Spain. She has a passion for natural beauty and the environment. Ashuni loves to cycle and drink smoothies in the sun. Follow her on Instagram at @ashuuuuni