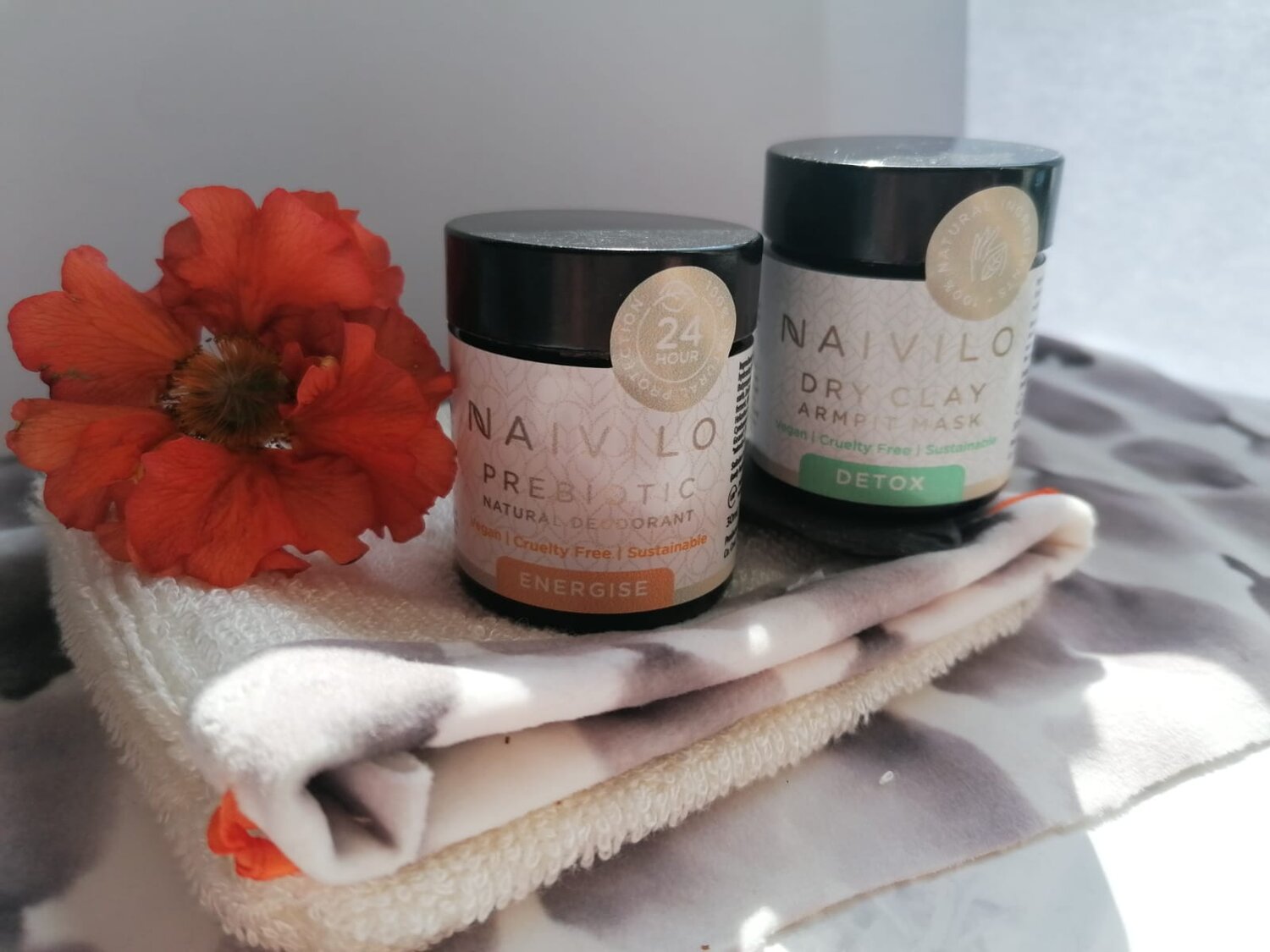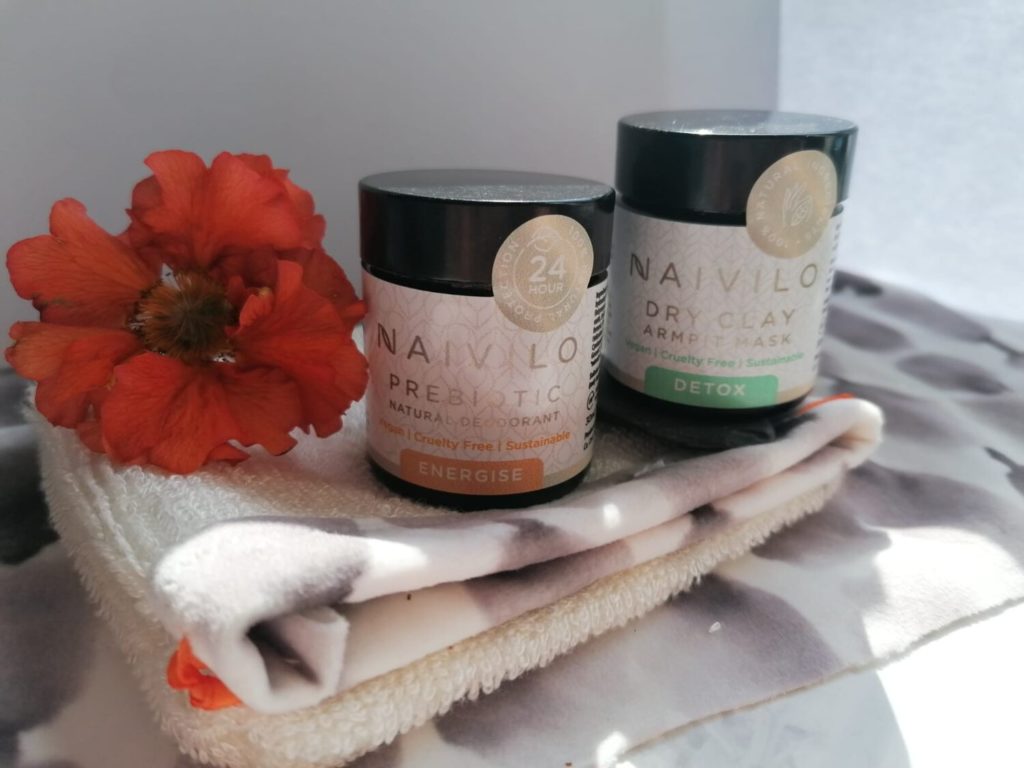 Olivia Norman is the medical scientist turned natural beauty expert behind Naivilo Prebiotic Skincare. Despite switching to natural beauty alternatives, Olivia wasn't completely satisfied and eventually began to develop her own deodorant. Naivilo Prebiotic Skincare is the perfect example of how the learning to make natural skin care products can lead to bigger and better things in life. Olivia took time out of her schedule to talk to our blogger Ashuni about her journey, her products, and how WapoBeauty helped her along the way.
Naivilo Prebiotic Skincare's Beginnings
The journey from idea to full-blown natural beauty brand began nearly two years ago. Previous to Naivilo, Olivia was working as a medical scientist in a hospital lab in Cork and had been doing so for years when she felt that something needed to change. Olivia was already making deodorant and was happily crafting these natural products as she knew exactly what was in them (and what they were doing to her body). One day, she noticed that her young daughter had very noticeable body odour.
Using her experience as a scientist and her knowledge of natural deodorant making, she created a special deodorant for her daughter even adding sparkles for a girly flair. The BO problem was solved and Olivia felt empowered about being able to help her daughter feel in control of her body. This moment was the driving factor for Olivia to take a break from her work to stay home with her kids and focus on making her natural deodorant brand. Although she had a medical science background, Olivia admits that she didn't know how to start a business and needed some guidance.
Making Naivilo Prebiotic Skincare a Reality
After discovering a course for female entrepreneurs in a local business school, she signed up to learn how to market and sell her product. As the brand was inspired by her daughter and 'feeling fresh as a daisy' the first name for the brand was actually 'Daisy and Dudes'. During the course, Olivia realised that the brand's name would have to change. However, finding the right name would take time and happen much later.
Olivia remembers reading a medical paper on the negative effects of parabens on pregnant mothers, which motivated her even more to help create safe beauty products. Not long after she'd finished her first course, Olivia enrolled herself in another course to begin formulating and testing her products. She soon noticed that the sodium bicarbonate she was using in the deodorant had begun to irritate her underarms. As a part of her research, Olivia reached out to shops carrying natural beauty products to learn what issues they were having with natural deodorants.
Working with WapoBeauty
The feedback that Olivia received was that shops had the same experience with sodium bicarbonate and that natural deodorants often melted while in store. That was when she knew she needed more help formulating her deodorant to get the ideal texture with the perfect combination of ingredients. "I felt like Goldielocks," Olivia laughed "It was like, oh this deodorant's too soft and this one's too hard." Luckily, someone recommended Mayca at WapoBeauty to help Olivia in the formulation process. "I didn't have a lot of experience formulating cosmetics," she explained, "so, I didn't quite understand how ingredients worked together to get the right consistency."
Mayca encouraged and helped Olivia through the process, as well as connected her to suppliers for raw materials and equipment. Following her consultation, she also signed up for WapoBeauty's Shampoo Bar Course. "I want my products to have the smallest impact on the planet as possible," Olivia noted. For her, it was only natural to explore plastic-free packaging and waterless cosmetic options for her skincare line. Guided by the WapoBeauty course and Mayca's encouragement, Olivia continued to formulate new skincare products.
Expanding the Naivilo Prebiotic Skincare Line
"The bacteria living on your skin are so important," she insists while describing how conventional skincare can destroy healthy bacteria and cause bad odour. Olivia attended a formulation conference in the UK where she discovered new ingredients that inspired her to adjust her formula and try new combinations. The Detox Armpit Clay Mask came from her experimenting with Rhassoul clay and finding the ingredient to be both potent and versatile.
Soon after, Olivia would also start to work with essential oils and explore how they made people feel. "I wanted to make healthy, happy scents," she clarifies when describing her work with essential oils. On top of healing underarms, Naivilo aims to create a morning ritual to start your day on a positive note. Each jar of deodorant comes in a velvet bag and includes a mantra to help people be more mindful about their beauty and grooming routines.
Launching During The Covid-19 Pandemic
Because of her medical science background, Olivia knew how vital it was to have scientific literature to back up her skincare line. The tests were being prepared at a local college when the Covid-19 virus hit Ireland and everything was put on pause. Olivia had previously given herself the launch deadline of the UK's Free From Skincare Awards in April of this year. "I was redoing labels and trying to figure out what people wanted," she recounted "People were just saying, we don't care how it looks, we just want it!"
In the end, with the high demand for her products and the deadline fast approaching, Olivia decided to launch her skincare line in the middle of the pandemic. She chose the name Naivilo (her name and the first letter of her surname backwards) to signify her natural beauty journey. "My husband and I quickly put together a simple website," she recalls. "Everything was shutting down and my brother-in-law printed six labels for me to be able to send my products to the UK."
Getting Shortlisted for the Free From Skincare Awards
Although it seemed that the odds were against her, the products made it in just in time. With coronavirus threatening to complicate the testing for the Free From Skincare Awards, Olivia worried how things would progress. Still, Navilio Prebiotic Skincare had launched and eventually, Olivia received word that her products had been shortlisted for the awards. Not to mention that she was receiving wonderful feedback and had plenty of happy customers.
"You just have to keep going and believe in yourself," Olivia adds. In searching to create a brand that was trustworthy, transparent, and helped others maintain their health, she also managed to empower herself. "The best thing you can do for yourself is to love, respect, and look after yourself," she asserts. Since Covid-19 arrived in Ireland, Olivia has been back at the hospital, doing her part to help the country stay afloat. Regardless, this isn't the last you'll be hearing of her or Navilio Prebiotic Skincare.
The Takeaway
Visit Naivilo Prebiotic Skincare's store to learn about their prebiotic and plant based products. If you're looking for assistance creating your own products, find out more about WapoBeauty's Formulation Service and receive consultation from Mayca herself. Anyone who is already on the path towards creating their own skincare may be interested in learning how to sell it legally in Ireland and the UK. Those searching for guided learning should visit WapoBeauty's Complete Facial Skincare Online Course for Beginners and discover how to make professional, safe, and stable natural beauty products. Join the ranks of students who found this class valuable and rewarding!
About Our Blogger
Ashuni Pérez is an American writer based in Valencia, Spain. She has a passion for natural beauty and the environment. Ashuni loves to cycle and drink smoothies in the sun. Follow her on Instagram at @ashuuuuni